What Hangcha Presented on the 128th Canton Fair
"I want three coupons. How can I get them?"
"This reach truck is a very good option in narrow aisle warehouse."
"I am going to order an aerial platform today."
"Nice jeans lady."
……
This is our 2nd online Canton Fair with 9 live streams, 138 hot-sale products, $20000 coupons offered. Apart from these, Hangcha presented more on the 128th Canton Fair and achieved many comments. Compared to the last Canton Fair, this one attract more buyers around the world. Till Oct. 24th, the official website of Canton Fair has attracted 51.17 million visitors, and the online exhibition, 7.9 million visitors. In terms of live broadcasting, a total of 284,800 live streams were presented with more than 1.89 million views.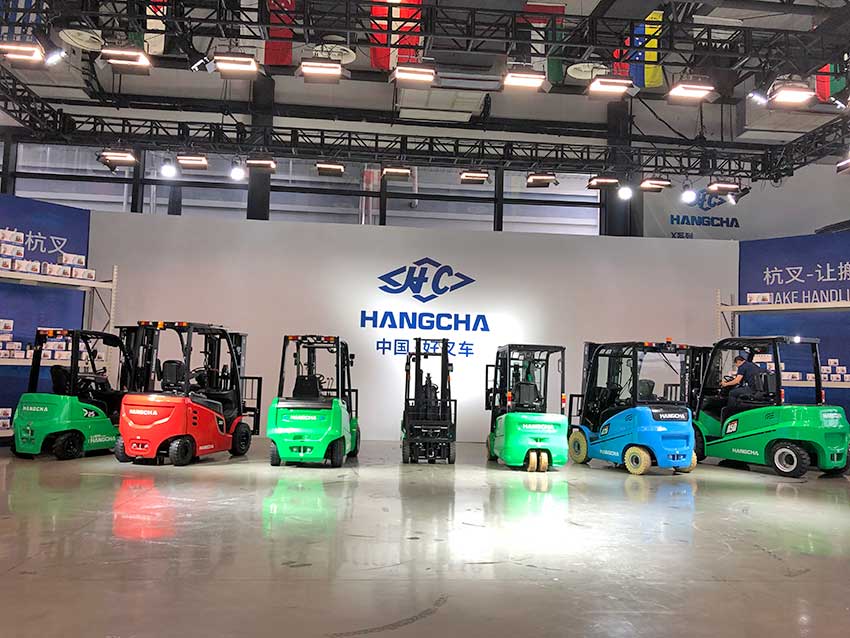 Forklifts presented in our booth
---
What can you find in our booth?
01-138 hot selling products with high resolution images and detailed description were presented, most of which were newly launched.
---
All of these had attracted more than 10,000 views and 100,000 thumb up, and coupons with a total value of $20,000 were offered and almost sold out.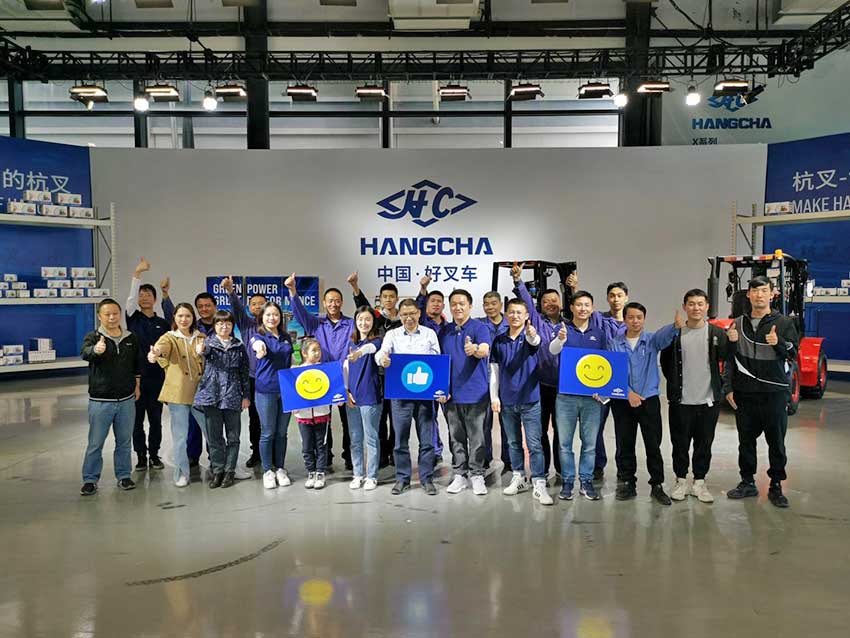 Hangcha team
---
What's the most favored product during this Canton Fair?
01-During this Canton Fair, our electric forklifts with lithium battery, enjoying high efficiency and saving energy, had attracted a lot of attention and received many inquiries from buyers around the world. You would find out how competitive these forklifts with lithium battery be.
02-In addition, Hangcha can provide a complete fleet of electric forklifts with lithium battery to meet your different application needs. Just like the theme of our Canton Fair "green power, great performance", we believe that lithium battery will lead the future energy solutions.
                           Our engineer fitted the XC series lithium battery forklift image together by a forklift
---
What's the most interesting part?
01-The forklift performance was the most favored part, showing the audience that our forklifts can be as stable as a mountain or as light as wings. The seemingly heavy fork was just like slender hands that can shoot baskets, hang lanterns, cut moon cakes, open beer bottles, do puzzles and even write Chinese calligraphy.
02-Every interesting and challenging performance was successfully completed upon the tacit cooperation of engineers and forklifts, which also showed the flexible operation, good stability and high quality of Hangcha products. 
                                                                           Shooting race by forklifts
Live broadcast will play a key role for enterprises to have promotion and interact with customers in the future. Hangcha will present more live streams on Youtube and Facebook to show our newly launched products. You can also leave message to let us know what do you want to see. Welcome to subscribe "

Hangcha forklift

" on YouTube and Facebook, download "Hangcha forklift" app to get more info.