The next innovative lithium-ion solution from HANGCHA
A little over a year ago, Hangcha Group released a full line of material handling equipment powered by Lithium Iron Phosphate battery packs. This revolutionized the material handling industry with a full line of rapid charging, low-maintenance equipment that were built around the battery pack. Now, a year and a half later, we are excited to showcase the next big innovation from Hangcha Group, High Voltage Lithium-ion Pneumatic Forklifts. This high voltage technology will allow users to fully charge equipment in as little as one hour, run for up to 12 hours without charging, and outperform similar I.C. powered forklifts. Learn more about the advantages of Hangcha's high voltage technology below.
High Voltage Lithium-ion vs. Lead Acid Charging Times
High Voltage Lithium-ion vs. Lead Acid 24 Hour Cycle


High Voltage cycle depends on model. Cycle shown is of 5,000lb High Voltage Pneumatic. 
High Voltage vs. Low Voltage Lithium-ion Powered Equipment
Total Cost of Ownership Comparison

Compared with low-voltage lithium battery forklifts, high-voltage lithium battery technology can save about 40% of the overall cost during the service cycle.
Under normal charging and discharging conditions, the lithium battery of Hangcha products has a capacity retention rate of more than 75% and a life span of up to 10 years after 4000 cycles of charging and discharging.

High Voltage Lithium-ion vs. I.C. Powered Equipment
High Voltage Lithium-ion vs. I.C. Powered Equipment
Total Cost of Ownership Comparison
Compared to I.C. powered forklifts, high-voltage lithium-ion technology can save operators about 90% throughout their ownership when comparing the total cost of ownership.

High Voltage Lithium-ion vs. I.C. Powered Equipment
Performance Comparison
Hangcha's new high voltage technology gives electric forklifts the ability to outperform similar I.C powered forklifts. Travel speed, lift speed, and gradability are all increased thanks to this new technology. The chart below shows the difference between our future 5,000lb High Voltage Lithium-ion Model and a comparable I.C. Pneumatic Model.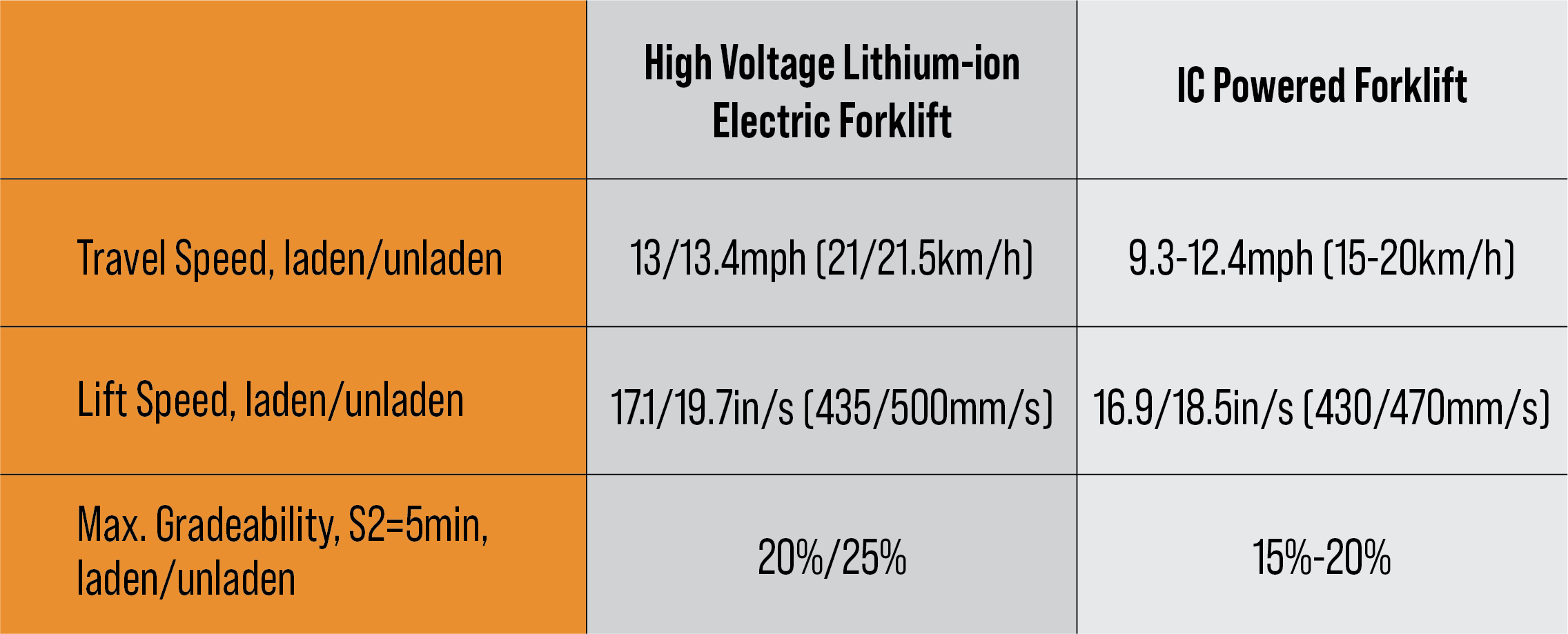 Lithium-ion technology is extremely safe thanks to Hangzhou Pengcheng New Energy Technology Co, Ltd.'s design, battery chemistry, and testing. The battery packs are designed to not release any harmful gases, work without the use of acid, and prevent operator strain by not needing to change the battery packs as the operator would with traditional lead-acid forklifts. Thanks to the intelligent battery management system, the battery is constantly monitored to make sure the forklift is safe to operate.
Lithium Iron Phosphate Chemistry
The battery packs were designed to use Lithium Iron Phosphate (LiFePO4) chemistry.  This chemistry has been proven to be both the safest and most energy-efficient chemistry currently found in lithium-ion technology.  The chemistry is also stable and won't react with the environment if the casing were to be punctured.  Lithium Iron Phosphate chemistry ensures a safer operating environment.
In order to ensure the safety of both operators and service technicians, the high voltage forklifts are equipped with several safety features. These features include high voltage interlocks and insulation monitoring. The forklift also features an MSD maintenance switch that enables on-click power down of the forklift. The high voltage forklifts are IPX4 and IP67 rated.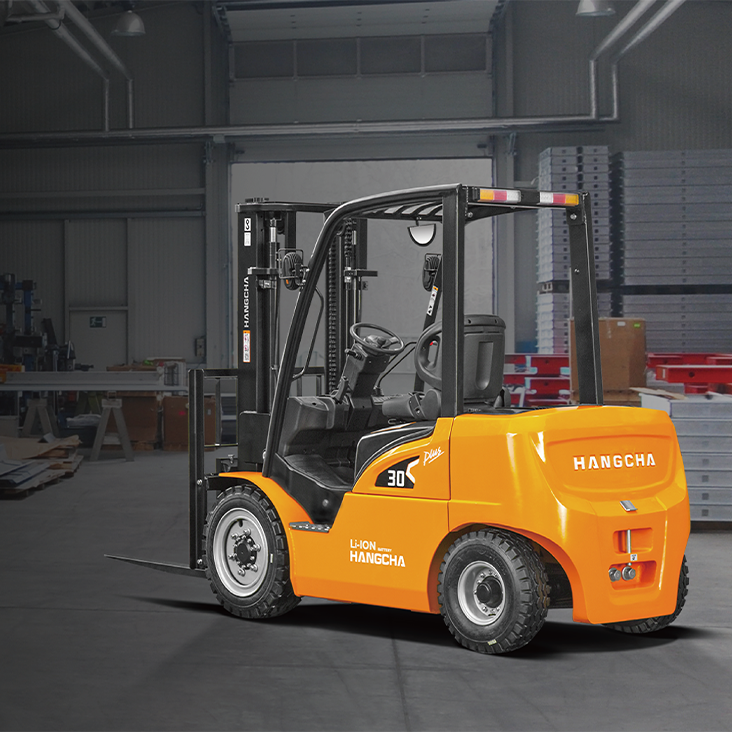 Find a Dealer Near You to Learn More