Hangcha Shows New Look of Made in China at CeMAT ASIA 2017
The China Exhibition of Material Handling, Automation Technology, Transport Systems & Logistics Asia 2017 (the "CeMAT ASIA 2017") was concluded on November 3. The bellwether of Chinese forklift industry – Hangcha displayed its leading-edge technologies on industrial vehicles in the field of logistics, showcased its series vehicle models for material handling and comprehensive services for whole value chain in all respects, and showed the new look of Made in China by Hangcha.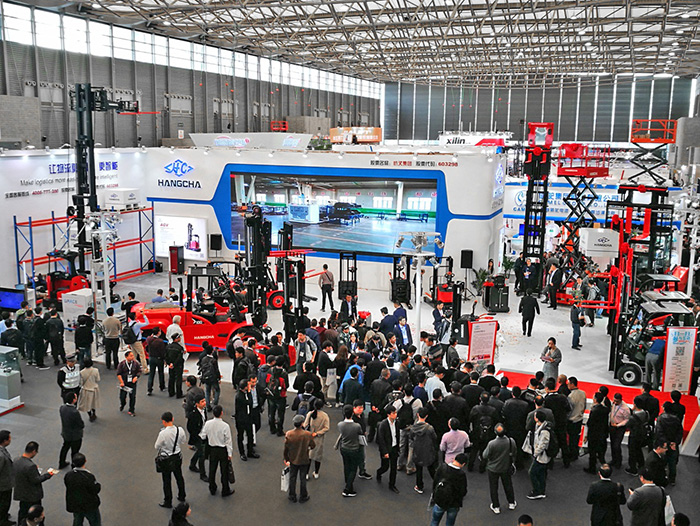 Booth of Hangcha
I. Exhibition of Full Range of Products
1、Fully Intelligent Forklift
"Customization of fully intelligent forklift and realizing real unmanned driving" are goals that are pursued persistently by Hangcha through research on AGV industrial vehicles, Chen Saimin, Board Secretary of Hangcha Group, told reporter from website Chinaforklift. Currently there are many types of forklift of AGV industrial vehicles at Hangcha, e.g. load vehicle, flatbed vehicle, forklift vehicle, QUAD vehicle, and pull vehicle. Hangcha adapts to changes of market rapidly, and allows customers to experience impact of cutting-edge technologies with intelligent applications including Automatic Guided Vehicle (AGV).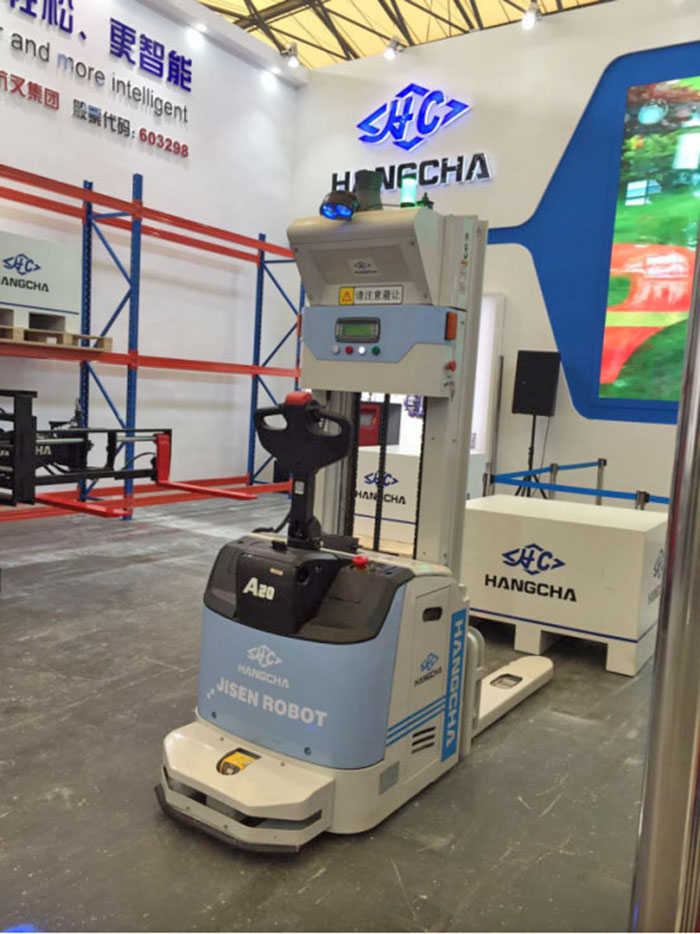 Laser Guided AGV Stacker
2、 "Giant" among Forklifts in China – 16t Large-tonnage Electric Forklift
"Developing large-tonnage electric forklift to replace imported brands is the demand of market, but also responsibility to the nation", said Board Secretary Chen Saimin. Large-tonnage electric forklift has extensive application, and is suitable for indoor, outdoor, and other work environments. However, currently most large-tonnage forklifts are imported. As a leader of national enterprises, Hangcha has the responsibility to develop large-tonnage forklift to replace that of imported brands. In addition, with increased emphasis on environmental protection by national policy, together with increased demand on electric forklifts year by year, replacing diesel forklift with large-tonnage electric forklift has become a development trend of the industry.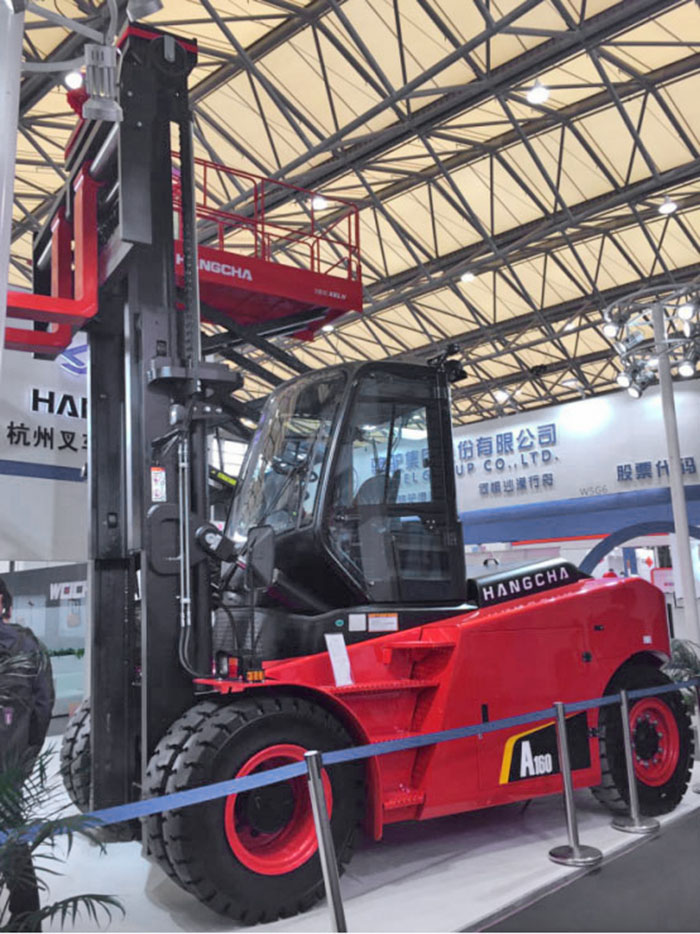 16t Electric Forklift
3、High-performance Electric Forklift
High-performance electric forklift boasts advantages of high-speed driving and high lifting speed, and has large-capacity battery to increase efficiency effectively. Easy-to-open watertight electrical control cover plate can prevent electrical control from being attacked by rain or dust, which is suitable for outdoor work. High-performance electric forklift is equipped with lithium-ion battery, which features faster charging, extended working hours, and higher efficiency, and the forklift is improved substantially in terms of performance and power. In addition, it is also equipped with intelligent meters and intelligent management system.
4、Rough Terrain Forklift
Hangcha 4×4 rough terrain forklift has three front hydraulic drive gearboxes and one rear hydraulic drive gearbox, with faster running speed and stronger climbing capacity. Its reinforced drive axle, wet brake, and reinforced steering and drive axle assembly can better accommodate special work conditions. This is another masterpiece of Hangcha for different work conditions required by targeting different customer segments and providing personalized products. The entire truck is highly dynamic, features high efficiency, energy saving, and environmental friendliness, is suitable for rough road conditions, and can meet requirements of heavy-load operation, and brings users with high-efficiency, reliable work experience.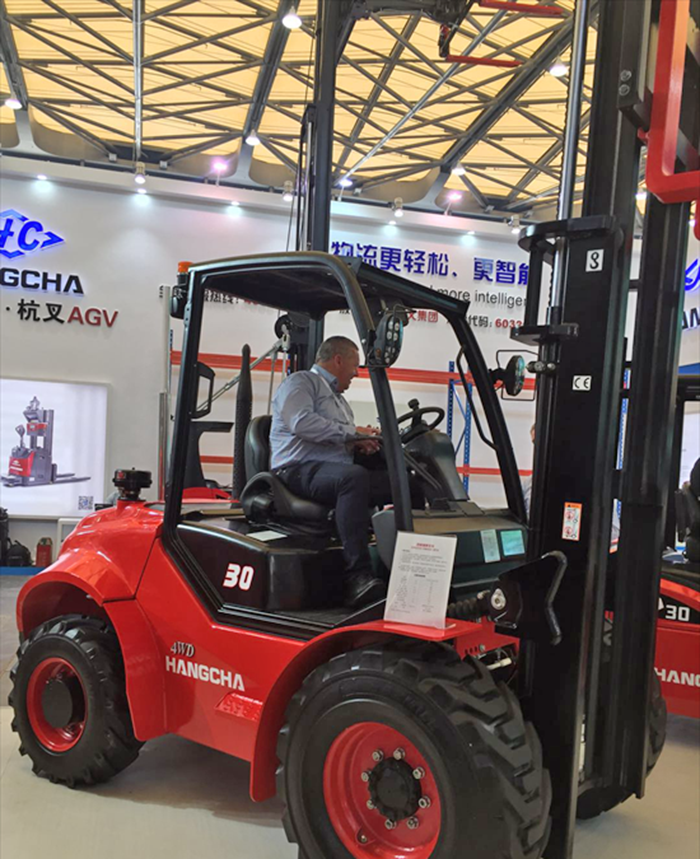 A Foreign Customer Is Experiencing Rough Terrain Forklift
II. Splendid Speech Focusing on Current Status and Trend of AGV
At this CeMAT exhibition, what attractive to visitors are not just the full range products showcased by Hangcha, but also the splendid speech made to visitors at the exhibition site by Ren Haihua, Vice Chief Economist from Hangcha Group, at the 2nd Seminar on New Technology of China Industrial Trucks. His speech was unfolded around the "Current Status and Trend of AGV-based Intelligent Logistics Systems", and made in-depth presentation in aspects from current development of AGV at home and abroad, development of intelligent logistics at Hangcha, cases of successful projects by Hangcha, and development direction of AGV at Hangcha. He highlighted that "in future, Hangcha will develop visualization software of 3D logistics, develop home-made navigation laser, master controller, and drive system, research specialized AGV trucks that are suitable for different work conditions, march forward toward simplification, visualization, datafication, and low cost, and make everyone's eyes on current status and trend of AGV-based intelligent logistics system."
Hangcha shows the strength and brand of Made in China through innovative products and improved service, and will continue to lead development of the industry during great revolution of the industry.