38 Sets Hangcha High Voltage Li-ion Forklifts Delivery to Europe
38 sets of Hangcha XH series high voltage lithium-ion forklifts are ready to be delivered to Europe and service in heavy duty in its best performance.
Launched in 2021, this XH series 2.0t-3.8t electric forklift truck with high voltage lithium-ion batteries shaped what we thought about the electric forklift. "The launch of this truck series provides demanding industrial application an incredible alternative to an IC trucks. " said George Zhang, the Deputy General Manager of Hangcha Imp. & Exp. Co., LTD. "It is a game changer of electric forklift in tough applications and you will find more than you expect."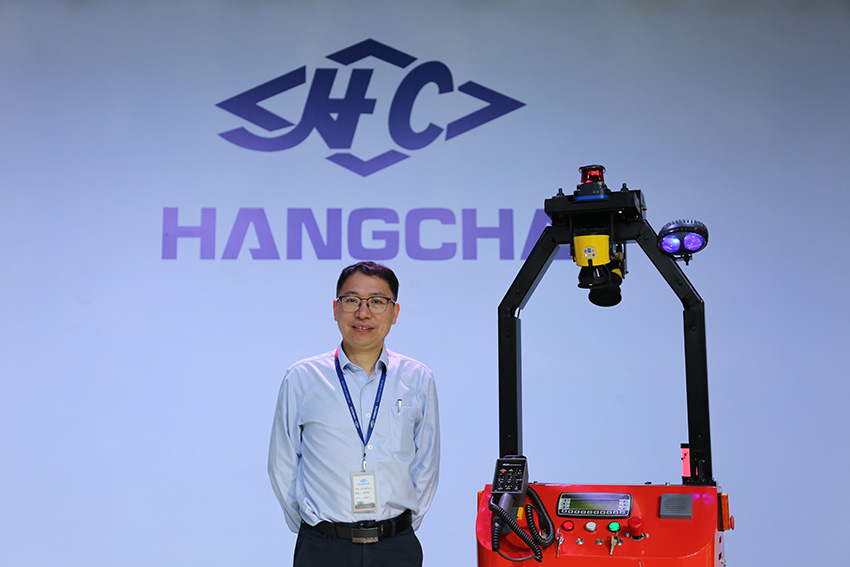 George Zhang, the Deputy General Manager of Hangcha Imp. & Exp. Co., LTD.
The tough trucks are designed for material handling in heavy-duty industries such as brick and blocks, paper, metal, and energy industries. Hangcha partnered with CATL, the global leader in lithium-ion battery pack manufacturing, to design this forklift truck built around high voltage lithium-ion battery technology, and we adopt much industry- leading technologies based on Hangcha's about 10 years' experience in Li-ion forklift, which brings it several key benefits.
100% charge in 1 hour
Integrated with high voltage lithium batteries (309V), this truck series can be charged at 100% by 1 hour and keep running for 12 hours a shift. Besides, with the rapid opportunity charging, you can have it charged during regular work breaks, and then run for a whole day, needing no extra battery exchange. It also adopts the technology of permanent magnet synchronization, by which the whole truck can save no less than 20% energy and finally benefits from a low Total Cost of Ownership.

XH Series high voltage Li-ion battery
Outperform Internal Combustion Forklifts
For example, the 3.5t electric forklift enjoys high performance similar to that of diesel forklifts:
Travel speed: 21km/h
Max gradeability: 20%
Lift speed: 435mm/s
Thanks to its fast acceleration and great performance, it is perfect for sites with long working times and long driving distances. Besides, the water cooling system will effectively cool the electric controller and motor, which will help keep the whole truck in a decent heat balance after a long working time.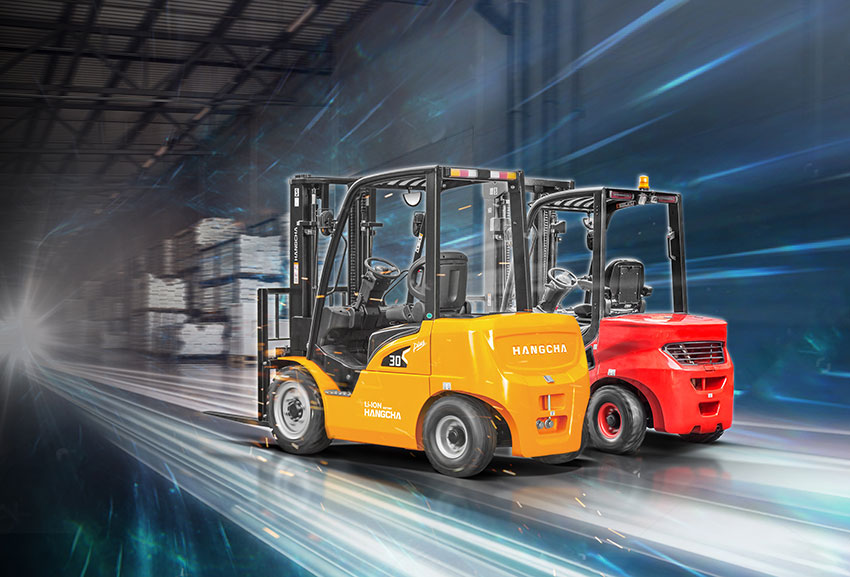 Outperform Internal Combustion Forklifts
Tough and safe
By adopting the driving axle, steering axle, and tire that are used in diesel forklifts, the truck enjoys a high ground clearance and strong frame, which enable it to work well in the tough applications that are normally done by diesel ones. Moreover, the IPX4 water resistance for the whole truck and IP67 protection rate for the main components will enable it suitable for multiple applications.
Safety is always the first concern as it is designed to work in both indoor and outdoor applications. Electrical high voltage interlock, insulation monitoring, and automatic deceleration at turns are designed to ensure safety and reliability.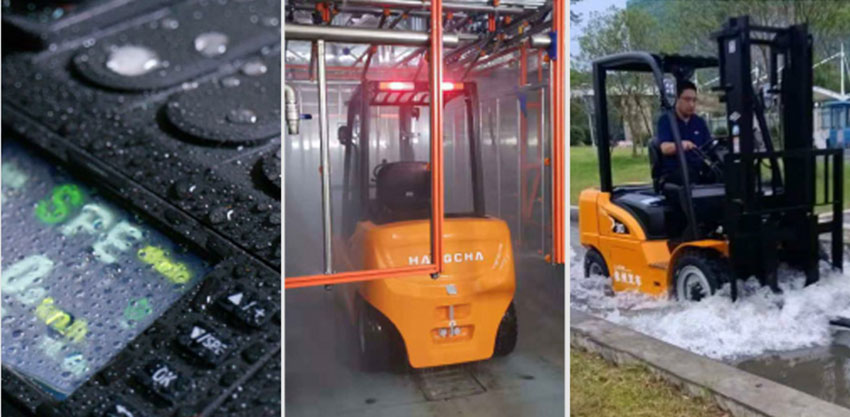 Varied test to ensure safety
In a word, this XH series electric forklift powered by high voltage Li-ion battery is comfortable, durable, affordable, and no doubt an incredible alternative to IC trucks. Contact us today to know more and let it surprise you.