Re-imagining Power with Hangcha Forklifts
According to the World Industrial Vehicle Statistics Association (WITS), 2.34 million material handling units were ordered during the 2021 calendar year. Despite still being in a pandemic, the industry saw a 43% increase in orders when compared to the previous year. Of the 2.34 million units, 68.8% or 1.61 million units were electric-powered forklifts. Electric forklifts are increasing in consumer popularity as this segment saw a 54.8% increase in orders from the previous year. With an increase in orders this big, how are consumers able to justify ordering electric forklifts when they historically haven't been able to perform the same as an internal combustion (I.C.) powered forklift?
Lithium-ion Technology
In 2015, Hangcha Group began researching and developing technology to answer this question. Hangcha partnered with CATL, the global leader in lithium-ion battery pack manufacturing, to design material handling equipment built around Lithium Iron Phosphate (LiFePO4) battery technology. This technology gives material handling equipment several key benefits over lead-acid powered forklifts.
Lithium-ion Technology Benefits include:
· Rapid Charging
· Opportunity Charging
· Longer Run Times
· Maintenance-Free Battery Packs
· Zero Emissions
Hangcha realized that material handling equipment built around this specific Lithium Iron Phosphate battery chemistry would finally give consumers an electric forklift that had performance similar to an I.C. powered forklift.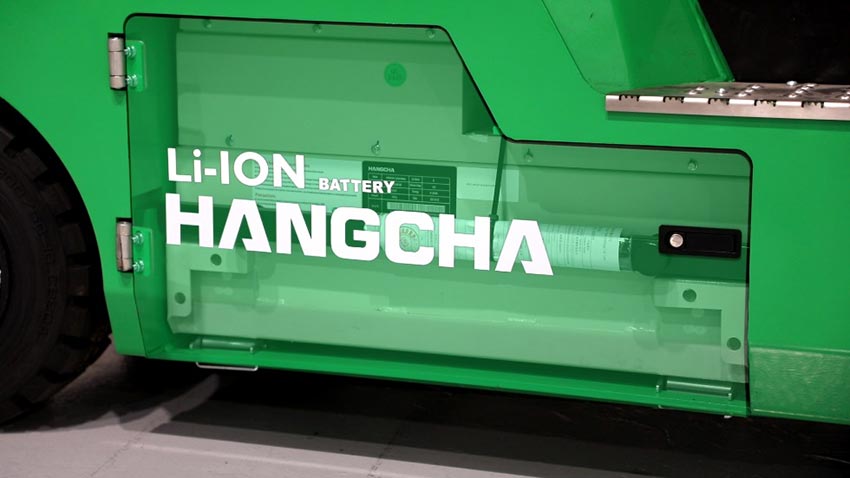 XC Series Lithium-ion Battery & Battery Compartment
The XC Series
At CeMAT in 2018, Hangcha Group unveiled their first lithium-ion powered model to the public. This was the XC Series Electric Lithium-ion Pneumatic Forklift with a 4,000lb to 7,000lb capacity. Hangcha Group designed this lithium-ion powered forklift to break through the mold of traditional lead-acid powered forklifts with 9 key technological differences.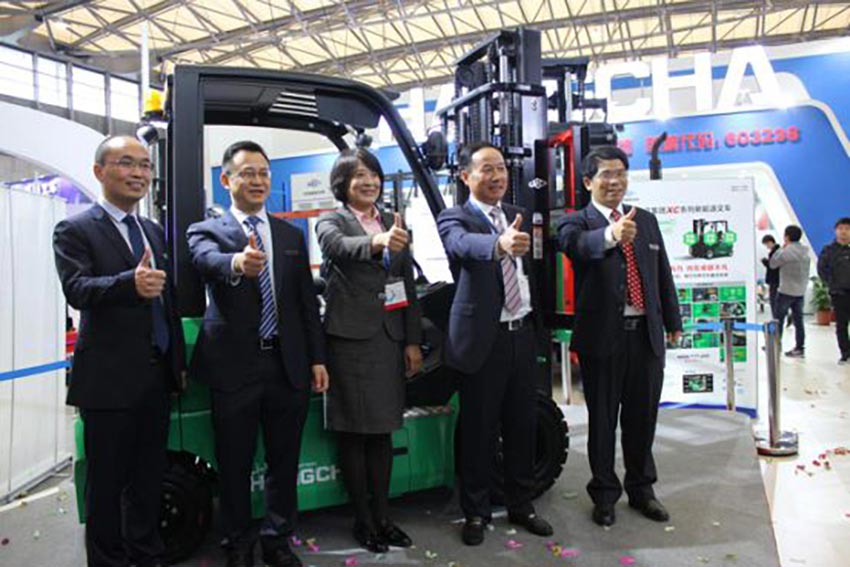 Hangcha Group releasing the XC Series at 2018 CeMAT
XC Series' 9 Key Differences:
Lithium Iron Phosphate Battery Pack
A Totally New Design of the Forklift's Frame
Custom Battery Shape to Lower the Forklift's Center of Gravity
Integrated Battery Management System
High-Efficiency Cooling System
IPX4 Water Resistance Rating
Complex Electromagnetic Environment Compatibility and High Magnetic Field Technology
High and Low-Temperature Protection Technology
Security Monitoring Management System
Forklifts that were large, limited in application, and in-efficient could now be replaced by a lithium-ion powered electric forklift that can run in 3 shift operations without battery swapping, offer maintenance-free batteries, and work in applications typically only I.C. powered forklifts could operate in.  Hangcha also ensured that these forklifts would provide a safe, reliable, and affordable alternative to I.C. and lead-acid powered equipment.
Safe: Hangcha's lithium-ion battery packs are tested over 273 different ways to ensure that they are safe to operate.
Reliable: In addition to being tested, the forklifts hold a IPX4 water resistance rating to ensure reliability in indoor and outdoor operational environments.
Affordable: The equipment offers a lower total cost of ownership thanks to its maintenance-free batteries and energy efficiency.
All of these benefits allow Hangcha's lithium-ion equipment to be versatile and work in multiple applications.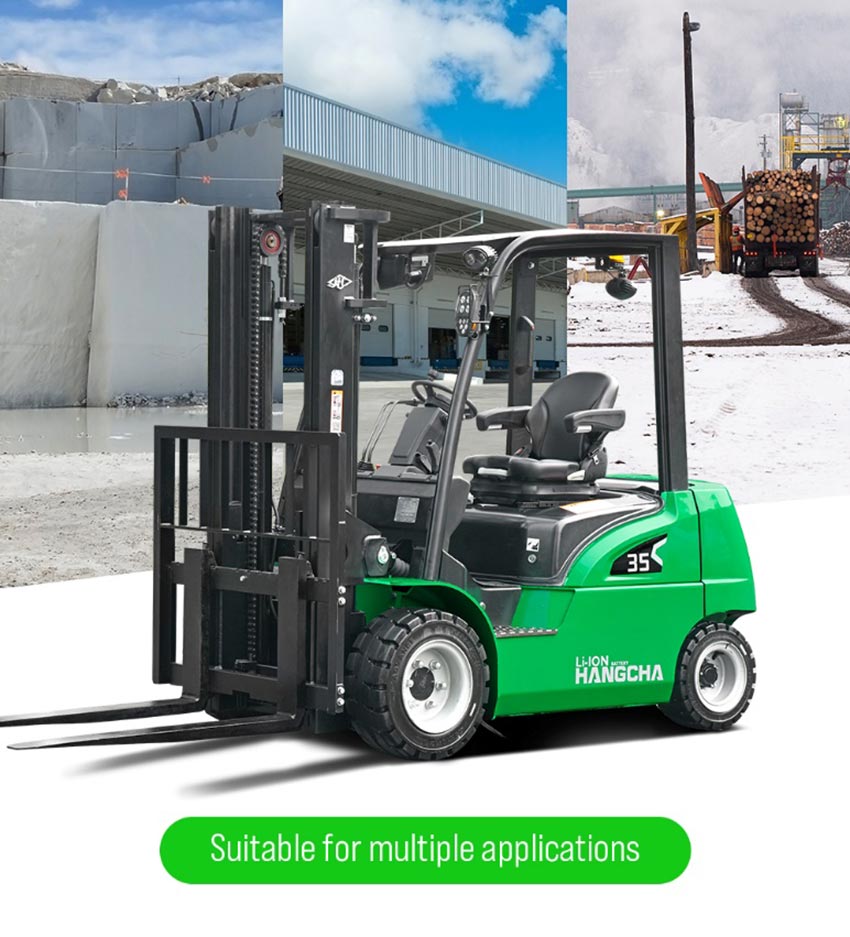 Full Line of Lithium-ion powered Material Handling Equipment
After the success that the XC Series forklift had, Hangcha developed and released a full line of material handling equipment powered using this lithium-ion technology. Hangcha's full line of lithium-ion powered equipment includes Class 1, 2, 3, and 6. By releasing a full line, Hangcha created lithium-ion alternatives to meet the diverse needs of the material handling consumer.
Customer Results
After the successful launch of the XC Series Electric Lithium-ion Pneumatic Forklift, sales volume has doubled year over year. Our customers are realizing the benefits of Hangcha's lithium-ion powered equipment and making the switch from lead-acid and I.C. powered equipment. A textile plant in the United States was one of HC Forklift America's early adopters of this technology. They purchased twelve 5,000lb XC Series Electric Lithium-ion Pneumatic Forklifts to replace both I.C. and lead-acid powered equipment and run in their 6 day, 24 hour manufacturing facility. "In two years of having these lifts, and using them on three shifts, we've had (to do) no maintenance on these lifts." said the textile mill's maintenance manager. "Our operators have been more than pleased. We have not lost any production. These lifts will go and go."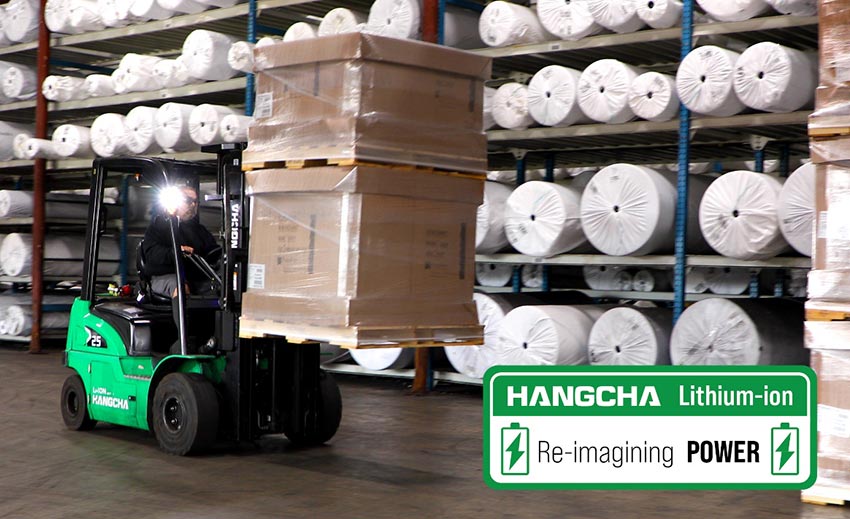 2.5 Ton XC Series Lithium-ion Forklift Operating at American Textile Manufacturing Facility
5,000lb XC Series Lithium-ion Forklift Testimonial
Thanks to this industry-leading technology, Hangcha's lithium-ion powered forklifts are redefining the industry definition of electric forklift performance and efficiency.  This has led to an adoption of our equipment by customers all over the globe to be used in industries such as food, logistics, automotive, energy, ports, terminals, and manufacturing.
Going Forward
In 2021, Hangcha Group sold close to 110,000 electric forklifts. This accounted for 43.09% of the company's total forklift sales. Consistent with the overall trend in the market mentioned at the beginning of the article, Hangcha Group also saw a 55% increase in electric forklifts sales. Starting in 2022, Hangcha is going to increase the production capacity of new-energy products to 200,000 units and expand the range of the electric forklift line to cover 1,000lbs to 96,000lbs. Going forward, Hangcha Group is also going to heavily invest in the development of new energy forklifts powered by electric and hydrogen fuel cells.  In addition, Hangcha will continue the manufacturing and development of I.C. powered material handling equipment. With a diverse full line of material handling equipment, Hangcha Group will continue to offer industry-leading material handling solutions for any application.