X Series Four-Wheel Electric Pneumatic Tire Forklift
4,000-7,000lbs lifting capacity
The X Series Electric Pneumatic Tire Forklifts, with a load capacity of 4,000-7,000lbs, are a new generation of electric pneumatic forklifts from Hangcha Group. These forklifts take design cues from our rugged IC pneumatic line of forklifts to provide the same durability with an electric powered chassis. The durable X Series Electric Pneumatic Tire Forklifts also provides operators with the performance, efficiency, comfort, and safety needed to effectively operate in North American operational environments.
The mast and the steel overhead guard provide great visibility and help to reduce the risk of accidents.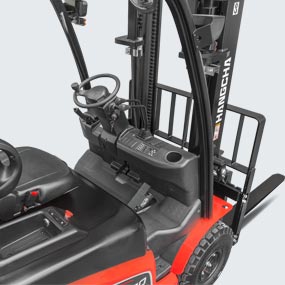 Fully closed operation plate space, tilting cylinder, and flat bottom plate, providing more comfortable and safe operation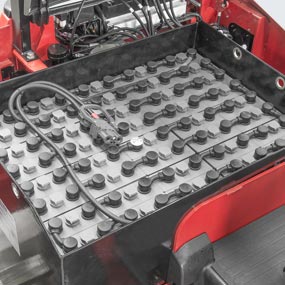 The optional battery side rollout provides a fast, simple, and safe solution for the operator when they need to change out the battery.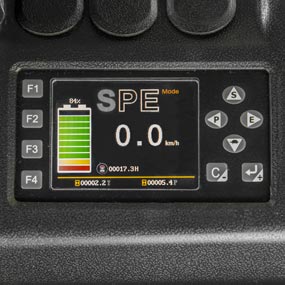 The multi-function instrument display clearly displays vital information when operating the forklift and is placed in an easy-to-see location for the operator.
118" Limited Free Lift 2 Stage Mast
Soft Landing System
Overhead Guard
Storage Compartment
Emergency Cut-Off Switch
USB Interface
AC Motor and Controller
Multi-Function Instrument Display
2nd Valve
Dynamic Load Sensing Hydraulic Steering Gear
Panoramic Rearview Mirror
Operator Presence Sensing System (OPS)
Integrated Combination Switch
DC-DC converter
Front and Rear LED Combination Lights
Tow Pin
Back-Up Alarm
78.7-196.9'" Limited Free Lift 2 Stage Mast
98.4-157.5" Full Free Lift 2 Stage Mast
169.3-275.6" Full Free Lift 3 Stage Mast
Wide Fork Carriage
Wider or Higher Load Backrest
Dual Front Tires
Solid Pneumatic Tires
Non-Marking Tires
Full Suspension Seat
Reverse Grip with Horn
Sideshifter
Fingertip Control System
Left & Right Rearview Mirror
Rear Working Light
Battery Removal System using Forks
Battery Side Roll Out
High Capacity Battery
Charger
Various Fork Lengths
Various Accessories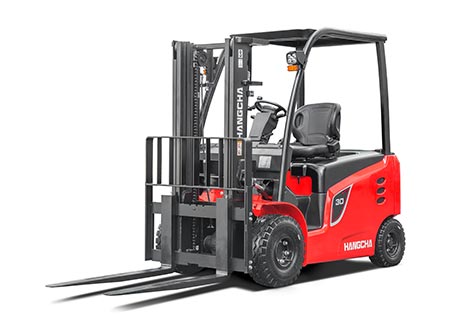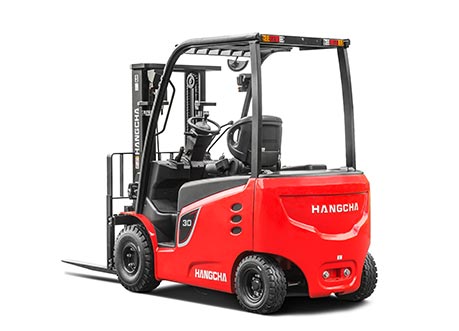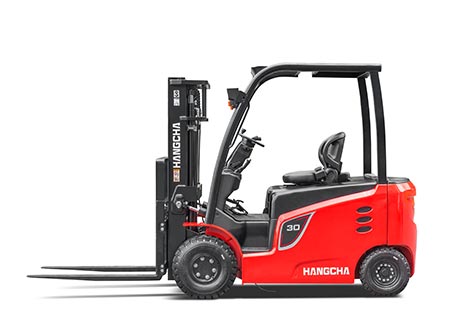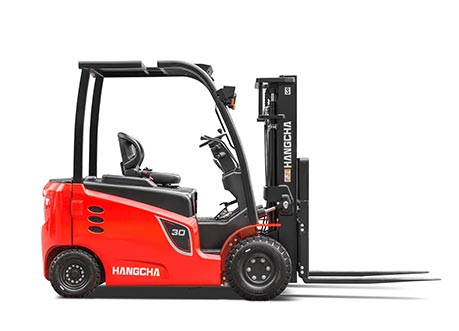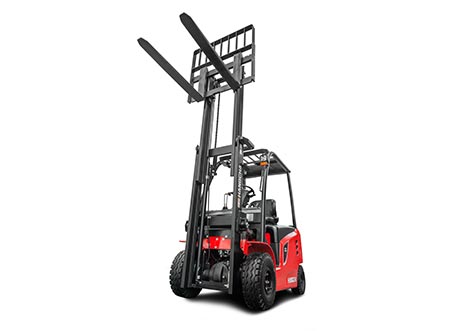 Find a Dealer Near You to Learn More