A Series 3-Wheel Stand-Up Counterbalanced Lift Truck
3,000-5,000lbs lifting capacity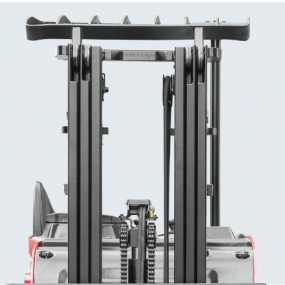 The wide view mast provides great visibility. The hydraulic cushioning feature provides confidence and smooth load handling while operating this forklift.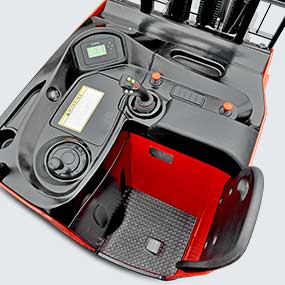 Ergonomic: The truck is designed for maximum operator comfort while traveling forward or backward in a side stance position. The back and elbow supporting cushions provide better support for the operator.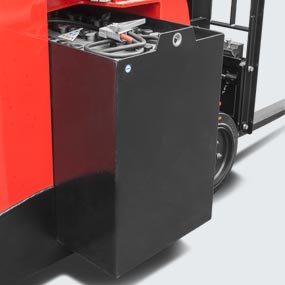 The battery side roll out is the standard configuration. The truck can also be adapted to both BCI and BS standard batteries.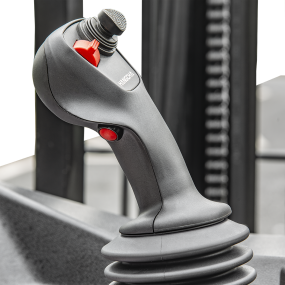 The intuitive, multifunction control handle is centrally positioned for easy access. The handle offers simultaneous control of the drive, lift, lower, and auxiliary hydraulic functions.
AC Dual Drive Motors
AC Pump Motor
Multiple Operation Modes
EPS System
Regenerative Braking
Electronic Parking Brake
Cornering Speed Control
OPS System
Shock-Absorption Pedal
Waist and Elbow Support Cushions
Multi-Functional Integrated Instrument Cluster
Smooth Cushion Tires
Emergency Cut-Off Switch
Integrated Operating Handle
Quadruple and Multi-Way Valve
Quadruple and Multi-Way Valve
117" Limited Free Lift 2 Stage Mast
Electric Horn
Cup Holder and Clipboard
Low Noise Gear Pump
36V BS Standard Battery
Soft Landing System
Battery Side Extraction
LED Work Lights
Strobe Light
Blue Safety Light
Sideshifter
Full Free Lift 2 Stage Mast
Full Free Lift 3 Stage Mast
Freezer
Password/Card Reading Access System
12V Socket
USB Charging Output
Overhead Fan
Fire Extinguisher
Other Dimensions of Forks
Specialty Attachments
Widened Load Bracket and Fork Carriage
Lower Type Overhead Guard
Charger
Find a Dealer Near You to Learn More